Mass & Service times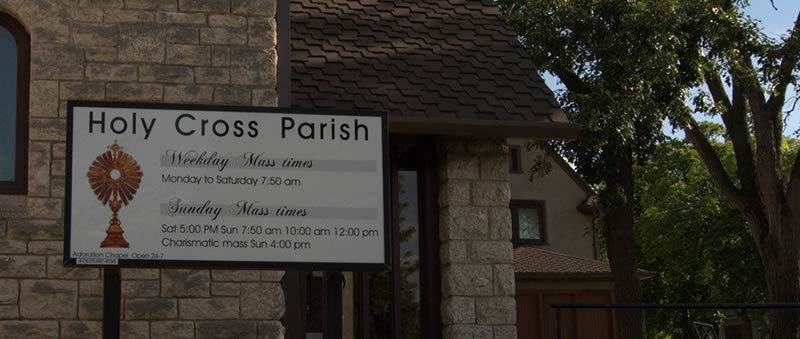 The general dispensation from Sunday Mass, which was mandated at the beginning of the COVID-19 pandemic is lifted, effective immediately. As it is our desire to welcome people back to church safely, knowing that some may be hesitant to return, it will be necessary to be aware of and respect the comfort levels of returning parishioners.
There are no longer any capacity restrictions for all masses. 
The mass booking system is discontinued.
Face masks are strongly recommended.
There may be parishioners who will still choose to wear a mask. We want everyone to feel safe and comfortable in the church. We ask everyone to please be respectful and kind to each other.
Contact tracing is no longer required.
Social distancing remains strongly recommended.
Sanitizing of hands at the door, and sanitizing of pews, etc. are strongly recommended.
Come and worship the Lord with us! We hope to see you at one of the following celebrations:
Weekday Mass (Monday – Saturday)
7:00am Recitation of the Holy Rosary
7:20am – 7:40am Holy Bible Reading
7:45am Weekday Mass (Monday – Saturday) followed by the Stations of the Cross (until April 5)
Friday – Stations of the Cross at 7:00pm (March 31)
Sunday Eucharistic Celebration
Saturday:
Sunday:

7:45am
9:45am Recitation of the Chaplet of Divine Mercy
10:00am
12:00pm
Reconciliation (Confession)
After the 7:45am Weekday Mass (Monday – Saturday).
Please line up after the weekday Mass is finished and the priest will hear your confession.
Eucharistic Adoration (24 hours a day, 7 days a week)
Chaplet of Divine Mercy
At 8:20am, Monday to Saturday, following the weekday Mass. (Chaplet of Divine Mercy will be replaced by the Stations of the Cross until April 5, 2023)
9:45am on Sunday, before our 10:00am Mass.
1st Friday of the Month Adoration
 Devotion to the Sacred Heart of Jesus with Eucharistic Adoration after the 7:45am Mass (in the Church), every first Friday of the month.
1st Saturday of the Month Devotion
Devotion to the Blessed Virgin Mary with Eucharistic Adoration, after the 7:45am Mass.
3rd Friday of the Month Reparation Devotion
Recitation of the Chaplet of the Precious Blood, after the 7:45am Mass.
1st & 3rd Saturday of the Month Charismatic Prayer
Charismatic Prayer from 7.00pm to 8.30pm.
Tamil Mass
Every last Saturday of the month at 7:00pm.
Holy Week Schedule
Palm Sunday April 1
Palm Sunday April 2
Holy Thursday April 6
7:00pm Mass of the Lord's Supper

8:00pm Solemn Adoration until 12:00am (in the Church)
Good Friday April 7
8:00am Solemn Adoration until 12:00pm (in the Church)

2:00pm Indoor Stations of the Cross

3:00pm Good Friday Service
Holy Saturday April 8
11:30am Blessing of the Easter Baskets

8:00pm Easter Vigil
Easter Sunday April 9
7:45am

10:00am

12:00pm

6:30pm (Tamil)
Please note that during Holy Week, there are NO 7:45am Masses on Holy Thursday, Good Friday, and Holy Saturday.
Where to find us
252 Dubuc Street
Winnipeg, Manitoba
R2H 1E3
CANADA
Phone: 204-233-7367
Fax: 204-233-5355
Email: office@holycrossparish.ca
Parish Office Hours
Monday – Friday:  8:30am – 12:00pm
Closed on weekends and holidays.