Mass & Service times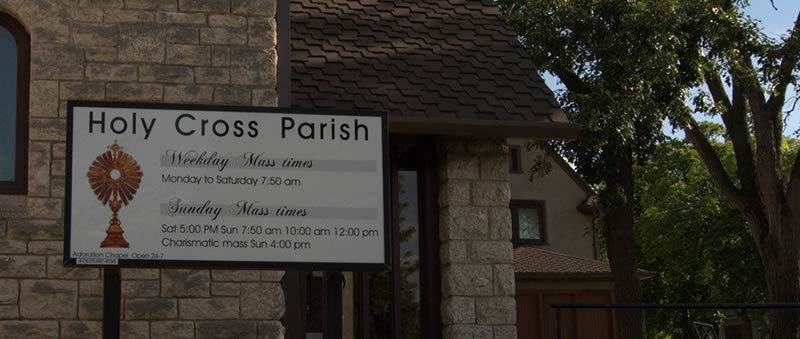 Changes to existing Public Health Orders took effect at 12:01am on April 28, 2021 and will remain in effect until 12:01am on May 26, 2021.
The maximum number of people allowed inside Holy Cross Parish is 10.
Mandatory face masks are required at all times in the Church.
The Sunday 10:00am Mass will be live streamed and posted on the diocese Facebook page at: https://www.facebook.com/ArchSaintBoniface/live.
Come and worship the Lord with us! We hope to see you at one of the following celebrations:
Weekday Mass
7:15am Recitation of the Holy Rosary
7:45am Weekday Mass
8:20am Recitation of the Chaplet of Divine Mercy (in the Jubilee Year of Mercy)
Sunday Eucharistic Celebration
Saturday: 4:00pm
Sunday:

7:45am
9:45am Recitation of the Chaplet of Divine Mercy
10:00am
12:00pm
7:00pm
Reconciliation (Confession)
Confession may be available after some Masses at the discretion of the presiding priest.
Healing Masses
Every first Monday of the month during the Friends of the Holy Eucharist Mass, 7:00pm
Due to COVID-19, there will not be Sacrament of the Sick, until further notice.
Eucharistic Adoration (24 hours a day, 7 days a week)
Chaplet of Divine Mercy
At 8:20am, Monday to Saturday, following the weekday Mass
9:45am on Sunday, before our 10:00am Mass
1st Friday of the Month Adoration
 Devotion to the Sacred Heart of Jesus with Eucharistic Adoration after the 7:45am Mass (in the Church), every first Friday of the month.
1st Saturday of the Month Devotion
Devotion to the Blessed Virgin Mary with Eucharistic Adoration, after the 7:45am Mass.
3rd Friday of the Month Reparation Devotion
Recitation of the Chaplet of the Precious Blood, after the 7:45am Mass.
Where to find us
252 Dubuc Street
Winnipeg, Manitoba
R2H 1E3
CANADA
Phone: 204-233-7367
Fax: 204-233-5355
Email: office@holycrossparish.ca
Parish Office Hours
Monday – Friday:
8:30am – 12:00pm
The parish office is closed on weekends and holidays.