Fr. Peter Krasuski, PSS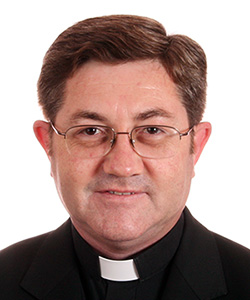 Start Date: May 1, 2015
Duties: Pastor
Let your Spirit descend.
Let your Spirit descend
and renew the face of the earth,
the face of this land.

(Pope John Paul II, Homily, Victory Square, Warsaw, June 2, 1979)
From the Desk of Fr. Peter…
May 1, 2015
Hi everyone!
My name is Peter D. Krasuski and, thanks to God's goodness, I just became your new pastor. I am truly happy about it and am looking forward to my new ministry among you. Let me briefly introduce myself.
Last February 21st, I turned 50 years old. I come from a mid-size city of Olsztyn (http://en.wikipedia.org/wiki/Olsztyn) in Poland and was born in a family of three. After my secondary school, I joined the SVD fathers with whom I spent three years studying philosophy. When I was 21 years old, I had to leave my country as a political refugee because I did not want to serve in the communist army. I spent one year in Rome, Italy, before arriving to St. Andrew Bobola Parish here, in Saint Boniface on November 28, 1989. Accepted as a seminarian for this diocese by His Grace Antoine Hacault, I started my theological formation at St. Joseph Seminary in Edmonton after studying English for only seven months.
Bishop Hacault ordained me a priest on January 5th, 1996 and nominated me his assistant secretary until August 15th, the starting date of my new ministry as parochial vicar at Holland Catholic Centre (Cypress River, Holland and Threhern). I spent there one year and six months and moved to the Major Seminary of Montreal for a two-year experience of becoming a Sulpician (sulpc.org), meaning a diocesan priest delegated to the ministry of formation of new priests. This ministry also involves teaching, so I went back to Rome (2000-2004), this time to study philosophy at the Gregorian Pontifical University (unigre.it). Having obtained a license in philosophy, I received a nomination to form future priests at St. Joseph Seminary in the Diocese of Crato (Ceará, Brazil; http://www.sulpc.org/sulpc_sem_crato_en.php). After one year of service in this institution, I have been named professor of philosophy at the Major Seminary of Brasilia (Brazil; http://www.sulpc.org/sulpc_sem_brasilia_en.php).
This very exotic experience ended in June of 2006: due to lack of philosophy professors, I was back as seminary spiritual director and professor at the Major Seminary of Montreal. Besides these activities, I was also dean of studies, administrator of the domain sulpc.org, as well as administrator of the Bulletin of Saint Sulpice, an annual review on priestly formation. Almost all of this my ministry may seem to be "disconnected" from parish life, yet – as a prof has nothing to do during the summer time – I was replacing priests in various parishes and have really enjoyed it.
I entrust my new ministry to your prayers, especially during this coming week, which I will spend on a retreat with the other priests of the Archdiocese. It will be an excellent occasion to re-connect with those of them I already know and to meet the many priests who started their ministry here after 1998, the year of my departure. I am looking forward to meeting each one of you personally and continue to pray for God's blessings in your lives.
Fr. Peter
Links
Archbishop Albert Legatt's Letter of Nomination of as Pastor of Holy Cross