Sister Bibiana Akpana Ikwun, HHCJ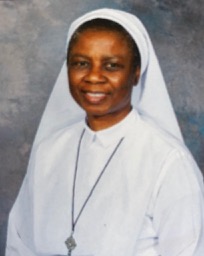 Start Date: August 1, 2006
Duties: Director of Religious Education (Catechetics Coordinator)
Background
Sister Bibiana is a member of the religious congregation of the Handmaids of the Holy Child Jesus – a missionary women's religious congregation founded by Mother Mary Charles Magdalen Walker, an Irish Sister of Charity who responded to a missionary call to work in southern Nigeria with Bishop Shanahan in Africa.
The Congregation opened a house in April 2005 in the Archdiocese of St Boniface at the invitation of His Grace, Archbishop Emilius Goulet. Sister Bibiana is the superior of the Handmaids community in Winnipeg. She is a teacher by profession and has many years of teaching experience in Nigeria and administrative duties in her congregation.
As the director of religious education in Holy Cross Parish, Sister Bibiana coordinates the activities of the Catechesis of the Good Shepherd Program, prepares children for the sacraments, conducts the Children's Liturgy at Sunday Masses, organizes the Family Adoration every Friday, organizes the Christmas pageant at the Children's Mass, and is available for all Parish activities. She is a member of the CWL at Holy Cross Parish. Sister Bibiana also volunteers her time at the St. Kizito African Catholic Community in Winnipeg.
"If God is for us who can be against us …nothing can come between us and the love of God made visible in Christ Jesus."

– Romans 8: 31 & 39