Announcements
Parish bulletin
The parish bulletin is posted each week, including a weekly message by our Pastor. This is a wonderful resource for the latest news and announcements and events in the parish and our local faith community.
Current announcements
Mandatory Face Mask or Face Covering
MANDATORY face mask or face covering required in the Church, Adoration Chapel and Parish Office.
For your safety and ours:
Group gatherings are limited to 10 people.
Parish Office occupancy limited to 2 people at a time.
Adoration Chapel occupancy limited to 4 people at a time.
Church occupancy during Mass is limited to 50 people.
Posted: 09/29/20 8:45 AM
---
Reusable Cloth Masks Needed for Holy Cross Food Bank
The Holy Cross Food Bank is in need of reusable cloth masks for our patrons. If you sew masks or have access to reusable masks, we would be grateful for your donation.
Posted: 09/17/20 10:47 AM
---
Holy Cross Parish Youth Group
Are you between the ages of 13 and 17, and have nothing to do on a Thursday evening? Well, have we got the place for you! Holy Cross Parish is resuming our youth group. YAY! Our first youth night will be on October 1st, from 7pm—9pm. We have some exciting reveals in store for you: what's our new name, who are Dominique and Vincent, and most importantly, who is Jesus! Due to the pandemic, we are asking that if you are interested in attending youth group, contact us first, so we know how many amazing young people are attending. Everyone who attends youth group must sign the Contact Tracing Form. Should an infection occur, it will be used to notify everyone who attended youth group. Privacy will be assured and the information will be used only as stated. We will also give updates on the latest COVID-19 protocol.
If you have any questions, concerns, or you would like to join us, please contact us at: holycrossparishyouthgroup@gmail.com, or find us at Mass.
We truly hope to see you there!
Yours in Christ,
Vincent Dubé and Dominique Gougeon-Gagnon
Posted: 09/17/20 10:46 AM
---
R.C.I.A. – St. Emile Parish
Are you considering becoming a Catholic?  Are you a Catholic who would like to take a refresher course?  Are you an adult who has yet to be Confirmed?  Then R.C.I.A. can be for you!
The Rite of Christian Initiation of Adults at St. Emile Parish begins Thursday, Oct. 8 at 7:30pm, in the boardroom. We will meet weekly on Thursday evenings.
To register, please call Deacon Gilles at 204-233-5114.
Posted: 09/17/20 10:44 AM
---
Men's Faith Sharing Group
Coming This Fall…
We are looking forward to offering these sessions this coming September.  There are two times and locations to choose from, pick which ever one works best for you;
SATURDAY mornings (7-8:30am) starting Sept. 19
St.Emile RC Church
South Entrance to Hall
556 St.Anne's Rd., Winnipeg
registration: TMIY.mb@gmail.com (text or call 204-930-9484)
…OR
TUESDAY evenings (7-8:30pm) starting Sept. 22
Holy Cross RC Church
Basement of Church
252 Dubuc St., Winnipeg
registration: crpeterson87@gmail.com (text or call 204-799-6601)
You are invited!
"These meetings have encouraged and challenged me to be a better man, husband, father, Catholic and most importantly to get know and serve my God."
– participant –
Posted: 08/7/20 7:43 AM
---
Interact e-Transfer
For security reasons, please be advised that Holy Cross Parish is unable to accept Interact e-Transfers any longer.
Please sign up for Automatic Withdrawal, use PayPal, cheques, or your regular Offertory Envelopes. Thank you!
Posted: 08/4/20 10:08 AM
---
First Communion 2020
"Unless you eat my flesh and drink my Blood you have no life in you…" (John 6:53)
Sophia, Elias and Naomi, all Level ll children in the Atrium, were looking forward to encounter Jesus, their Good Shepherd in First Holy Communion, at Easter 2020 with other candidates from the parish and Holy Cross School. Unfortunately, their hopes were shattered by the global shutdown due to COVID-19. Jesus, who loved them first and saw their yearning and sincerity, inspired His Grace, Archbishop Albert LeGatt to satisfy their hunger. At a special Mass, celebrated by His Grace, Archbishop Albert LeGatt on Sunday, July 12, 2020 at 3:00pm, the three children, in the presence of their families and friends, received Jesus in the Eucharist for the first time. Their joy was palpable throughout the ceremony. Let us continue to support them with our prayers and good Christian living. Congratulations to Sophia, Elias and Naomi! We hope you continue to enjoy your relationship with Jesus, the Good Shepherd.
—Sister Bibiana, HHCJ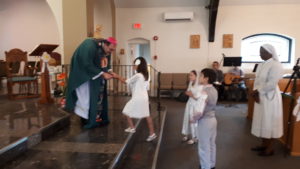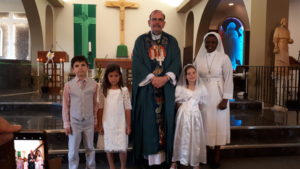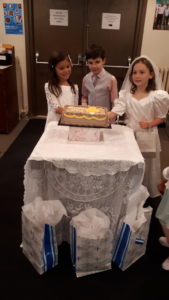 Posted: 07/21/20 9:24 AM
---
Flower Garden
A big THANK YOU goes out to Sharon and Wilma for the beautiful flower garden!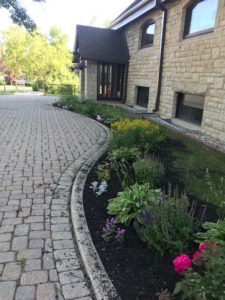 Posted: 07/17/20 9:10 AM
---
Old Adoration Key Cards
Effective September 1, 2020, the old adoration key cards will be discontinued.
There are two scanners on the right side of the Chapel door.
The "old cards" are the cards that are scanned at the top scanner before you enter the Chapel.
You can purchase a new card for $10.00 at the parish office during office hours: Monday – Friday: 8:30am – 12pm.
If you cannot make it during office hours, contact us at 204-233-7367 or office@holycrossparish.ca to make other arrangements.
Posted: 07/15/20 10:23 AM
---
Holy Cross Parish Mass Schedule
We are in the process of implementing COVID-19 protocols in accordance with the latest update from the archdiocese.
Effective with this update, parishes are permitted to allow 50 people at Masses and other forms of worship, according to their capacity.
Here are Holy Cross, we have already been planning for this increase in number with the following considerations in mind, effective Monday, June 29:
The reservation system will be discontinued.
The 50 people allowed entry to Masses will be on a first come, first serve basis.
Attendees will be asked to sign the Contact Tracing Form upon entry.
Should an infection occur, it will be used to notify parishioners who attended the Mass.
Privacy will be assured and the information used only as stated.
The number of Masses and the Mass times will return to the pre-pandemic times.
The Mass times will be as follows:
Monday – Saturday 7:45am
Saturday 4pm
Sunday 7:45am, 10am & 12pm
The 1st Friday, 1st Saturday and 3rd Friday devotions will be restored.
Liturgical Ministers (Communion Ministers, Lectors, Altar Servers, Sacristans, Greeters, Ushers) are asked to resume their duties as soon as possible. Signup sheets and scheduled are being prepared and will be posted soon.
As of Sunday, July 5, the 10am Mass will be live streamed and posted on the diocesan Facebook page at: https://www.facebook.com/ArchSaintBoniface/live.
Posted: 06/12/20 9:38 AM
---
Announcement submissions
Any announcements you wish to submit for the bulletin must be ready for publication. Please submit your announcements prior to the event for consideration.
Contact us with particulars of which dates you would like the announcement to appear, by:
All announcements are subject to approval by our Pastor.