Our Dynamic R.C.I.A. Program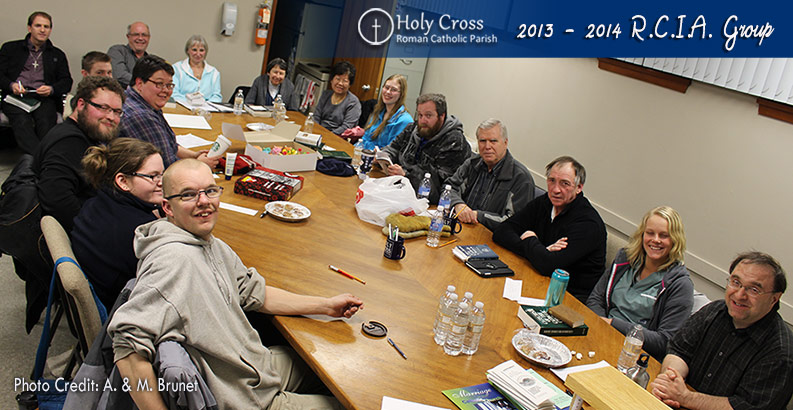 This is the third year that R.C.I.A. [Rite of Christian Initiation of Adults] has been under the direction of Deacon Gilles. The team is strong, dynamic and present with a variety of gifts to this important ministry.  In our first year, we started off with 6 young adults who desired to come to the fullness of the truth in the Catholic Church. Each of them had their own stories and journeys. Some were not baptized and some were from different Christian traditions. One of the great graces we have seen in this ministry is how people are starving to know Truth and desiring to fall in love with Jesus and his Beloved Bride, the Church. On the day of the baptism for these candidates, a glow, a peace and a joy overwhelmed them and God was working with them.
Since then, we had others young adults from other Christian traditions or Catholics receiving confirmation late in their life who have come back to the Church and who have desired to know what they had been missing.  This year, we have a dynamic group of 9 candidates who have chosen to enter the Church.  Many of them come with other Christian traditions, are much older, have a high degree of education (one has a PH.D.). Many have experienced a deep love for the Catholic Church and cannot be anywhere else but here. Many also come with their own stories and their own journeys.  It is a privilege to be able to work with these young people in their journey from September until four weeks after Easter.  Since it is so difficult to press the entire Church into one year, we teach only the surface of what Holy Mother Church teaches and  but try to instill into the candidates the beauty, richness of the Catholic Church while also not avoiding those areas that are sometimes difficult to talk about.  Our work in R.C.I.A. is to ensure that these young men and women understand the Church, understand who Jesus is in their life and why it is important that they make a clearly committed and faithful decision to enter the Church. As we have said on several occasions, it is important that the candidates enter of their own free will and choose to become Catholic.  R.C.I.A.  is not apologetics nor is it a place to judge others or other Christian traditions but it is a place where their heart, their spirit and their love is being transformed into beautiful Catholic Christians.
R.C.I.A. is a gift to the Church and a gift to our parish. It is a ministry that needs to be encouraged, supported and valued as it brings the most positive and wonderful elements of the universality of the Church and the beauty of what it means to live as a Catholic in this secular world. Thanks be to God for the gift of R.C.I.A.  and for all the teaching, witnessing and inviting to the new candidates that have come and that will come soon.  It is important to say thank you to all the team members and all that Deacon Gilles has done to lead the R.C.I.A.  program.
God bless you.
– the RCIA team