Our History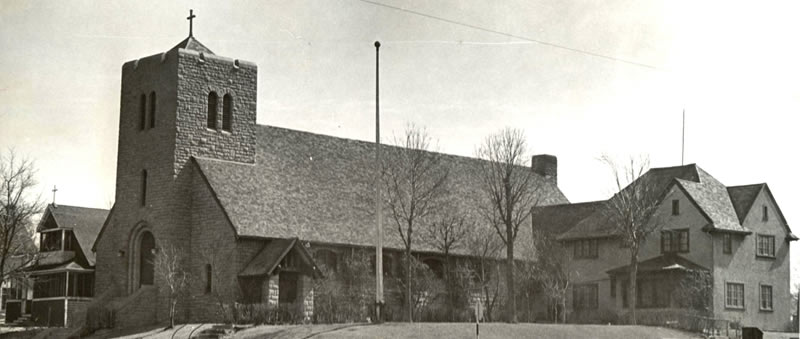 The community of Holy Cross was first established in 1918 to serve the many English-speaking Catholic families who were beginning to settle in the (mainly French-speaking) city of St. Boniface. In 1921, with over 100 families, permission was granted by the Holy See to erect the very first national parish for all English-speaking Catholics in the Archdiocese of St. Boniface. It was at that time that the name "Holy Cross" was unanimously accepted by His Grace, Archbishop Beliveau and the community.
Without a proper building, Masses were celebrated on Sundays at the former Sacred Heart Chapel, at the rear of St. Boniface Cathedral. As the community grew in numbers, Masses moved to the Cathedral proper.
Enthusiastic efforts were made by Pastor Fr. Lambert and the community and to raise funds for a proper building. By the Spring of 1922, plans were drawn by Architect Mr. D. Atchinson and on July 30, 1922 the cornerstone was laid by His Grace the Archbishop and members of the clergy of both the St. Boniface and Winnipeg Archdiocese.
The Church was blessed on December 10, 1922 by Monsignor Jubinville and daily Mass commenced the following day on December 11, 1922 at 7:30 PM.
With the demand of faith-filled education for English-speaking families on the rise, Holy Cross Catholic School was built in 1926.
In the past, Holy Cross has also served as the homes of two former Chaplaincies, St. John Fisher and St. Thomas More.
Our Pastors
We are thankful to those who have dedicated their lives in serving us, bringing to us the Word of God through their vocation. Our Parish has been blessed to be loved by our Fathers, to guide, to hope, to help and to care for all of those in God's family.