I'm new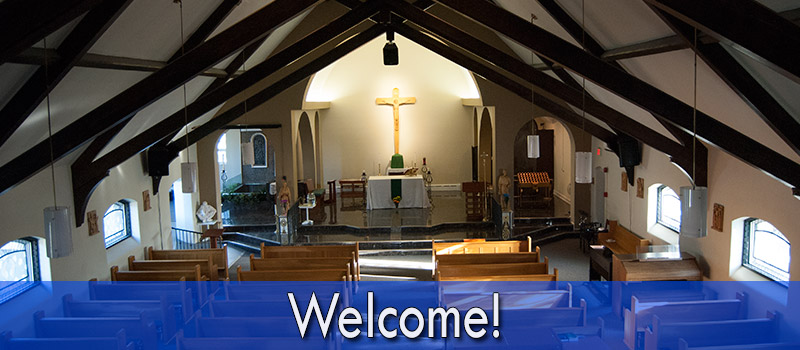 Welcome to Holy Cross Parish!
As a Parish, our first and foremost goal is to be welcoming.  We strive to ensure everyone finds a home here and feels they are part of our family.  Our different Mass times offer the Eucharist at times that fits your schedule
Every morning we begin with a daily Mass at 7:45am
Saturdays we celebrate Sunday Eucharist at 4:00pm
Sundays 7:45am, 10:00am, and 12:00pm
We welcome you to keep up with news and announcements by reading our online bulletin.
Our Parish offers programs and ministries such as children's Catechism and sacramental preparation, our  Catholic Women's League (C.W.L.) and our parish Knights of Columbus – Norwood Council #3538  We also offer Adoration of the Blessed Sacrament for families as well as 24 hour Eucharistic Adoration in our Perpetual Adoration Chapel.  We have an association of the Friends of the Holy Eucharist and a Medjugorje Prayer Group.
As we continue to grow we hope to have more activities and groups to bring our Parish together. We are always striving for ways to reach out to the community and share our gifts.  In conjunction with Harvest Manitoba we hold a weekly Food Bank which feed those in need. We also have Bradbury's which provides a free hot meal every Monday night. At Christmastime we offer a program to those who need help in celebrating with food and gifts.
As a new parishioner we invite you to introduce yourself to our Pastor, Fr. Ani Xavier, OFM Cap, or a member of our Parish Team.  If you have an idea that brings people together or you feel would help us grow we would love to hear it!  If you have gifts you would like to share in the parish, we would love to offer you a platform for those gifts.
If we can help you feel more a part of the Parish please come and visit, call us or send us a message!  We'd love to hear from you.
Welcome to Holy Cross!