Mass & Service times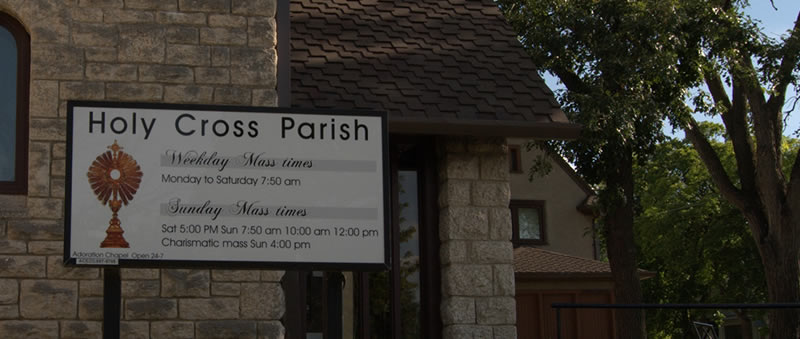 The general dispensation from Sunday Mass, which was mandated at the beginning of the COVID-19 pandemic has been lifted. 
There are no longer any capacity restrictions for all masses. 
The mass booking system is discontinued.
Face masks are no longer mandatory, but recommended. Individuals may continue to choose to wear masks based on their preference, personal risk or other reasons.
Contact tracing is no longer required.
Sanitizing of hands at the door, and sanitizing of pews, etc. are recommended.
Come and worship the Lord with us! We hope to see you at one of the following celebrations:
Weekday Mass (Monday – Saturday at 7:45am)
There will be a new format of devotions, as below:

7:00am – Rosary
7:15am – Invitatory and Morning Prayer, from the Church's Divine Office, also known as the Liturgy of the Hours – which the Church encourages all laity to pray.
7:35am – Sacred Silence
7:45am – Daily Mass

In order to follow along in this Morning Prayer, in lieu of everyone having to bring their own books, we suggest, for all who are able, to download the free iBreviary app for iPhone or Android phones or iPads/tablets. Then those who are able to use this app can participate in responses. All others may still follow along prayerfully.

We are excited to begin this new initiative, and to join with the prayer of the Church!

To view the poster, click here.
Sunday Eucharistic Celebration
Reconciliation (Confession)
After the 7:45am Weekday Mass (Monday – Saturday).
Private reconciliation is also available. Please contact the parish office at office@holycrossparish.ca 
Eucharistic Adoration (24 hours a day, 7 days a week)
Chaplet of Divine Mercy
At 8:20am, Monday to Saturday, following the weekday Mass.
1st Friday of the Month Adoration
 Devotion to the Sacred Heart of Jesus with Eucharistic Adoration after the 7:45am Mass (in the Church), every first Friday of the month.
1st Saturday of the Month Devotion
Devotion to the Blessed Virgin Mary with Eucharistic Adoration, after the 7:45am Mass.
3rd Friday of the Month Reparation Devotion
Recitation of the Chaplet of the Precious Blood, after the 7:45am Mass.
2nd Saturday of the Month Charismatic Prayer
Charismatic Prayer from 7.00pm to 8.30pm.
Where to find us
252 Dubuc Street
Winnipeg, Manitoba
R2H 1E3
CANADA
Phone: 204-233-7367
Fax: 204-233-5355
Email: office@holycrossparish.ca
Parish Office Hours
Monday – Friday:  8:30am – 12:00pm
Closed on weekends and holidays.